At LFSRM, we have a variety of ways you can volunteer to help refugees. Whether it be compiling welcome baskets or working closely with refugee families themselves, we offer an array of opportunities suited to your specific preferences. We have five offices in the Rocky Mountain region, each with individual needs.
The first step to volunteering with our refugee programs is to review the opportunities available in your area and attend an orientation training session. After you have attended an orientation training, you will need to complete and submit an application and a background check. These forms should not be submitted until after you have attended orientation. Volunteering with our refugee program provides you with an opportunity to learn about the current refugee situation and different cultures, and participate in refugee advocacy.
Step 1
Step 2
Step 3
Step 4
Volunteer Positions:
1. Cultural Mentoring
2. Tutor
3. On-Call
4. Internships
Click here to find a mandatory orientation training near you.
Apply to our Cultural Mentoring or Volunteer program.
Complete a background check through Verified Volunteers. You will receive an email with further instructions. Volunteer orientation / training is required prior to completing this step.
You will be contacted by one of our Volunteer Coordinators to begin volunteering with our refugee program
Cultural Mentoring: Our Cultural Mentoring and Exchange program gives you the opportunity to work directly with the refugees we serve. This is a six month commitment in which you will work continuously with a family that has recently arrived into the U.S. During this time you will focus on four key points: Financial Literacy, Employment, Practical Life Skills, and Learning English. You will work on these skills to varying degrees depending on the interests and needs of the family.
While it is important that you help your refugee family with the skills listed above, your main job is to provide friendship to these new community members! We view this program as a cultural exchange, and the relationship you build with your family will be mutually beneficial.
On-Call Volunteer: Receive email correspondence about one time, or short-term opportunities to volunteer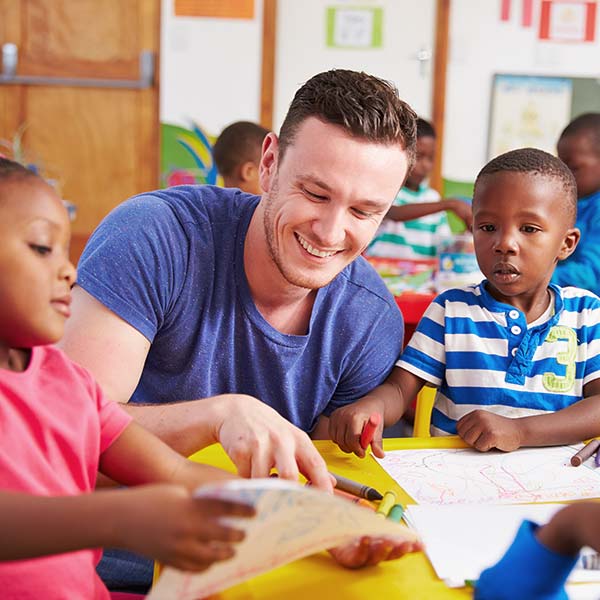 Tutoring: Our In-Home Tutoring program matches volunteers in a one-on-one relationship with a high school aged refugee youth. This is a unique opportunity to work one-on-one with refugee youth who may be struggling academically due to previous limited schooling or gaps in education. Challenges range from basic literacy to subject competency, so the assistance you provide may vary based on need, yet is undeniably instrumental in their overall success in school. The minimum time commitment for this program is one hour/week for the duration of the semester. Experience working with youth or in education preferred, but not required.
Creating Baskets/Bins: When a family arrives to the United States through our agency, we provide them with Apartment Bins containing miscellaneous items that the federal government considers essential items that every arrival must have. When we are able to provide donated items to families, we can save them an average of $50. They are then able to put that money towards rent or food. What seems like a small amount makes a huge difference as a family begins their journey towards financial stability and self-sufficiency.
In addition to Apartment Bins, we also collect Baby Baskets, Welcome Baskets, and Hygiene Baskets. These items while not required, can make a huge difference in the lives of our newly arrived neighbors. Putting together a Bin or Basket can be a great team or group activity! For more information on bins click here.
Donations: We always need help with fundraising and other financial assistance. If you cannot donate your time, but still want to participate in assisting refugees in the community, consider the following opportunities ways contribute:
Co-Sponsorship: Help ease the tough cost of living by contributing $1,000 towards first month's rent for a refugee family.
Fundraising: We can always use help raising funds to help refugee families.
Gift Cards: One awesome and simple way to help refugees, while giving them some choice in what they get, is to collect gift cards!