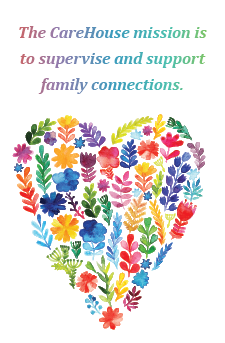 CareHouse provides a comfortable, nurturing environment for families and children to have supervised visitation, virtual supervised visitation and safe exchanges.
At CareHouse You Can:
Prepare and share a meal in our kitchenette
Play and have a picnic at a nearby park
Play games or read books
Relax in one of our visit rooms
Ice skate at the Ice Haus
Explore the Farmer's Market
Walk to nearby restaurants and museums
During a supervised visit or safe exchange, a trained Visitation Supervisor is present at all times and objectively documents all interaction. Copies of documentation are available on a monthly basis for a reasonable fee.
Hours:
Monday -Thursday: 9am – 8pm by appointment only
Saturday: 10am -1pm by appointment only
CareHouse is closed Fridays and Sundays, and all major holidays. Supervised visits and safe exchanges are available by appointment only – allow 7-10 days for scheduling.
Fees:
$60.00 per hour
$25.00 intake
$15.00 per Exchange
Financial assistance is available to qualifying families.
INTAKE, VISITATION AND EXCHANGES ARE AVAILABLE BY APPOINTMENT ONLY.
To request an application or schedule a parenting time, please contact Tammy Fisher at 970.356.6751 or tammy.fisher@lfsrm.org.
" . . . to strengthen and preserve families while protecting children from abuse and neglect."