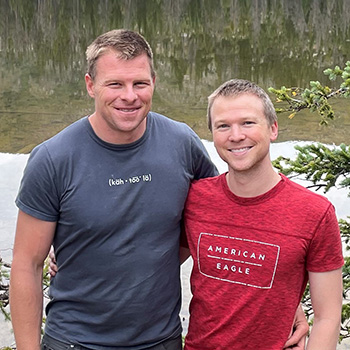 Hello!
We are Shane and Eric, and we'd like to begin by thanking you for taking the time to look at and consider us. We understand this is an exceptionally difficult time for you, and it's impossible for us to know exactly how you are feeling. Adoption is not a decision someone comes to easily, and if you do decide this is the right path for you, we hope we can be a part of the next step.
First, a little about us a couple. We were both born and raised in Colorado. We initially met and got to know each other during confirmation class at our local Lutheran church in middle school. After confirmation, we went to different high schools and lost contact. As fate would have it, we met again as adults through a mutual friend and began dating. We have been together ever since. We love to be adventurous and outdoorsy by traveling the world, hiking, and competing in fun-runs. We also enjoy downtime at home with movies, video games, playing instruments and board games. We've had a wonderful 15 years together, and now we're ready to grow our family. We want to provide a safe, loving, and stable home for a child.
It's not easy fitting our lives into a short letter, but we hope we've been able to give you an inkling of who we are and where we've come from. If you do choose adoption and believe we may be a good fit, we would love to make that connection. Even if we are not your choice, please know you will be in our hearts and prayers.