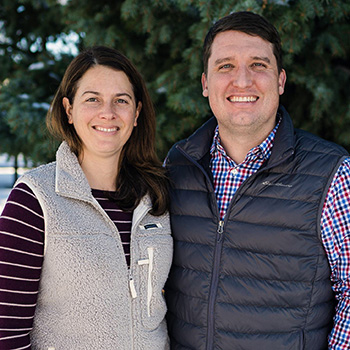 Hi, we are Ben and Adria! Thank you for reading our story and choosing to learn more about us.
We met in Denver in 2012 through a mutual friend and had our first date at a Rockies baseball game. Immediately, we felt a strong connection to one another. We quickly learned that we were both drawn to Colorado because of our love for the outdoors and that we shared a passion for working with kids. It wasn't long until we fell in love. We spent many days enjoying the outdoors, hiking on trails, biking around town, and walking our dogs together. Our love blossomed over the next several years as we shared vacations, birthdays, and spent holidays getting to know each other's families. We got engaged in 2016, and then quickly got married on a private beach where we jumped into the ocean after sharing our vows.
We have always known that we wanted a family and decided before we were married that we would try to have a baby on our own and to adopt a baby. We started by trying to have a child on our own; however, we experienced infertility issues. It became clear that we were meant to adopt.
If chosen as adoptive parents, we promise to give your baby a home and life filled with love, patience, laughter, and a community of family and friends that would guide and protect them. We would love to meet with you as you try to determine what is best for your child. Our hearts are open to learning about you, what you want for your child's life, and the values you wish to have upheld.
We are excited to take this next step in growing our family and invite you to continue learning more about us! We wish you peace as you decide what is right for you and your baby.