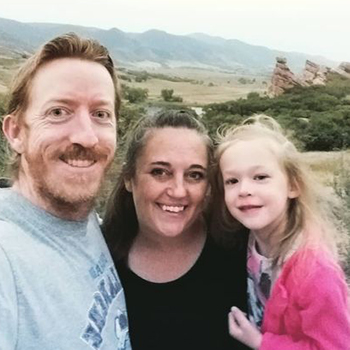 Hi there! We are so excited and can't wait to meet you!
About us: We are both natives of Colorado and are so lucky to say that this beautiful state is our home. We have been together since 2008 and married in 2011. We find our ourselves spending most summer weekends in the mountains and exploring this great state we live in. We have 4 siblings (2 each) who have given us a total of 10 nieces and nephews. These kiddos are anxiously waiting for new cousins!
Todd was born and raised in Denver. He is the youngest of 3, with both his sister and brother being adopted (Todd is biological). He works full-time as a Principal Test Engineer.
Patti was born and raised in Aurora. She has 2 sisters, one older and one a twin. She works part-time as a Physical Therapist Assistant and part time as a stay at home mom to Zoey.
Zoey was born in 2017. Her birth mother lovingly chose us to adopt this precious girl. Our lives changed forever as we started growing our family and are so blessed to have this little girl to take care of. She is a happy, smiley, snuggly little girl who will make a great sister someday.
After trying unsuccessfully since 2012 to conceive a child, God led us to grow our family through adoption. The journey of us becoming parents came true with Zoey's and her birth mom's choice to have us raise her. We have always wanted a family of 2-3 kids. We can't wait for Zoey to have a sibling.
We thank you for considering us as part of your journey and potentially as the couple who will raise your child and look forward to getting to know you. We can only imagine how hard this decision is that you're making but pray that you feel comfort and peace.
God Bless,
Todd, Patti and Zoey