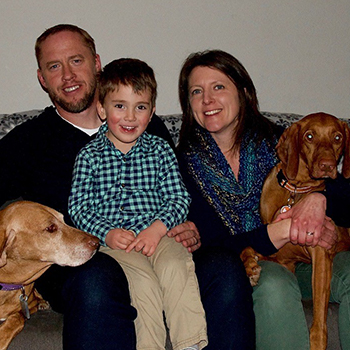 Dear Birth Parents,
Thank you for taking time to read our profile and get to know a little bit about us. We met ten
years ago at our local dog park and have now been married for over eight years. A little over two years ago we adopted our son Karl, who was 2 ½ years old at the time.
Our family loves the outdoors and staying active. We also love spending a day at home, going to the library, playing legos and enjoying a movie night together. Our best times are had spending time with our friends and family. Jarred is an amazing cook and always cooks up a great meal to share with our guests. Karl loves any reason to have friends over and take out the bouncy house! Jess loves the outdoors and is always working on planning a trip somewhere in Colorado or to the east coast where her family lives.
We realize what a difficult journey this must be for you, but want you know we will love and
cherish your child with all our hearts. As you go through this difficult process, please know we
support and admire the decision you are making. Thank you again for taking the time to read a little bit about us.
With love,
Jarred, Jessica & Karl